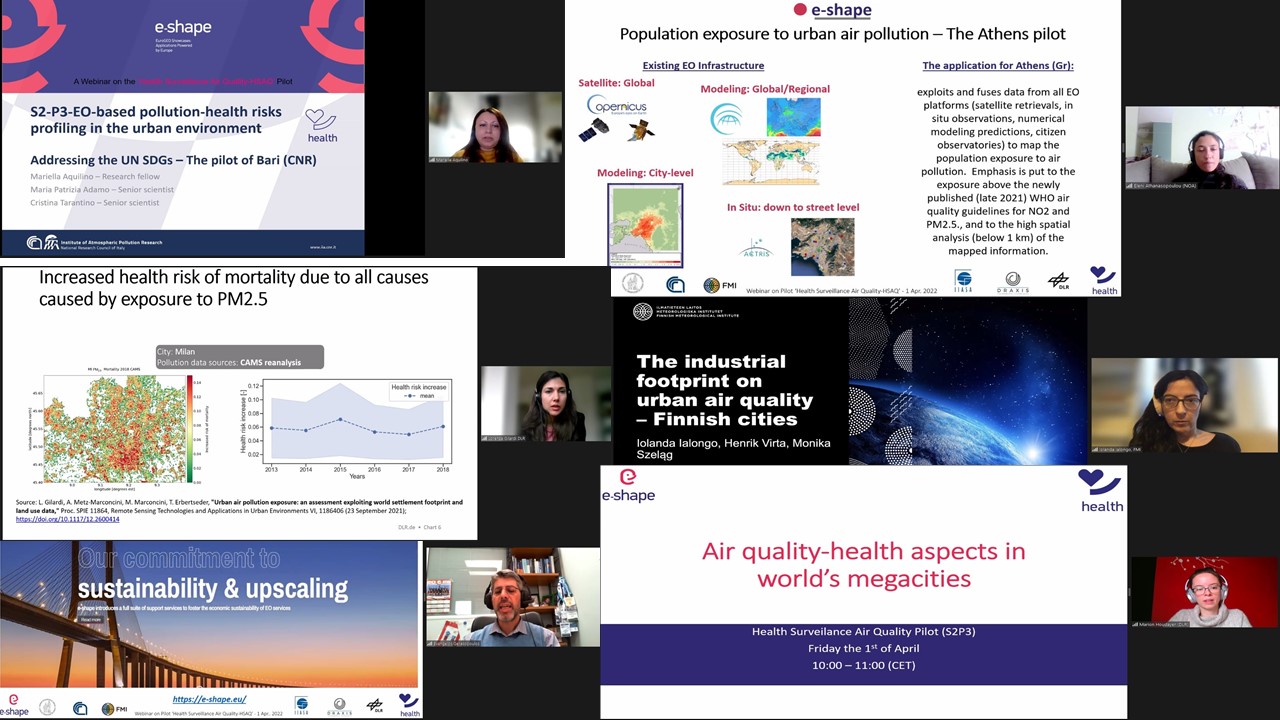 APCG, the coordinator of the Health Surveillance Air Quality [HSAQ] of the e-Shape H2020 project, organized an online interactive webinar on Friday 2 April 2022, to demonstrate its newly developed online platform "TEASER".
The teaser is a "marketplace of services" with global and unique city components utilizing a variety of existing EO infrastructure for health surveillance purposes. 52 participants from several countries, representing competent stakeholders in the field of air quality and health, watched the webinar and became aware of the methods adopted and functionalities of the platform, and provided feedback for further improvements during an interactive and inclusive discussion.
The pilot leader, Dr. Gerasopoulos, stated: "Very proud to be leading this efford with our colleagues from German Aerospace Center (DLR) Finnish Meteorological Institute, Consiglio Nazionale delle Ricerche, International Institute for Applied Systems Analysis (IIASA) and DRAXIS Environmental S.A. Many thanks to all participants and looking forward to keep on collaborating with our stakeholders towards improving our services"
In charge of the webinar preparation was Dr. Eleni Athanasopoulou, who delivered a lively demonstration of the platform with its different components and functions, informing that the teaser is a dynamic tool available to host other relevant applications in the future and efficiently serve its objective as a "teaser".
In case you missed it, the full webinar can be watched here.
Partner presentations are also available below:
DLR: Marion Houdayer - link
DLR:Lorenza Gilardi - link
NOA: Eleni Athanasopoulou - link
FMI: Lolanda Lalongo -
CNR-IIA:Mariella Aquilino - link
NOA: Eleni Athanasopoulou - link