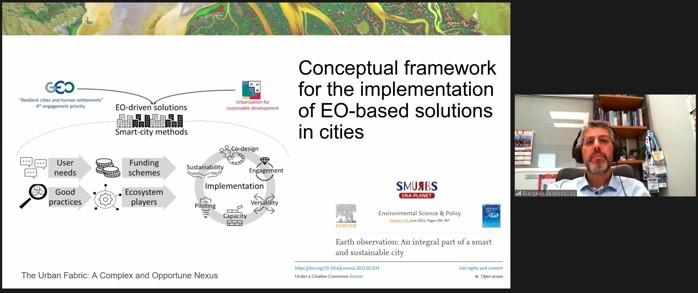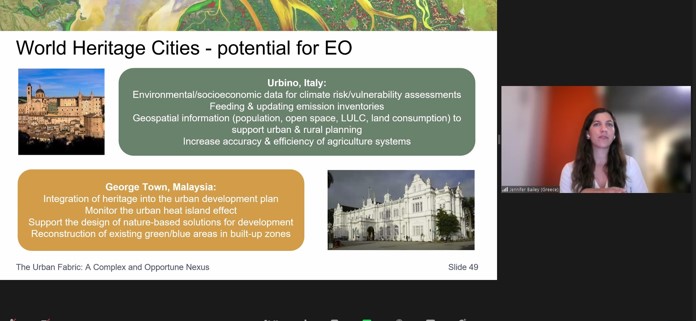 APCG and the Greek GEO Office played a key coordinating role in this year's GEO Symposium, having the responsibility for the preparation and moderation of the session "The urban fabric: a complex and opportune nexus". The session, one of the four nexus sessions in the programme, was realized during the last day of the GEO virtual Symposium, which took place from the 2nd to the 5th of May 2022, focusing on "global action for local impact".
Dr Evangelos Gerasopoulos, Research Director at the Institute for Environmental Research and Sustainable Development and Director of the Greek GEO Office, introduced the GEO community with the "Resilient Cities and Human Settlements" new engagement priority and its analyzed its implications on the GEO Work Programme (GWP).
The nexus idea was used to demonstrate how "Resilient Cities and Human Settlements" can be exploited as the vehicle to concentrate GEO efforts across sustainability, climate action, and disaster risk reduction challenges, as well as to coordinate relevant activities across the GWP.
Fruitful discussions from local stakeholders (i.e. Yeravan CIty) and city networks (i.e. ICLEI) described their current needs, gaps, trends, and linkages, and discussions focused on how GEO can support their endeavors. Jennifer Bailey, member of the Greek GEO Office, presented the Urban Heritage Climate Observatory (UHCO) – a GEO Pilot Initiative emphasizing how the protection of the World Heritage Cities can contribute towards urban resilience.
You may watch the entire session here.