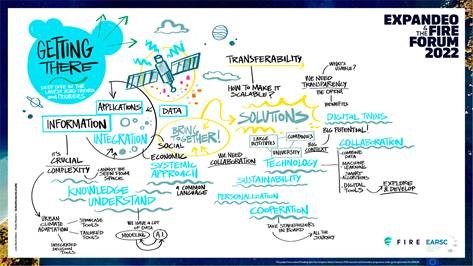 During EXPANDEO and the FIRE FORUM 2022, focusing on "Where the market meets - Unlocking the full potential of Earth Observation in Europe", APCG was represented by Dr. Evangelos Gerasopoulos who was invited as a panelist in two sessions: (a) "Getting there" – Deep dive in the latest R&D trends and priorities and (b) Fighting climate change in urban environment: a multi-scalar endeavor. The two day event was organized by the European Association of Remote Sensing Companies (EARSC) and was held in Brussels on 14 and 15 June 2022.
During Day 1, the FIRE Forum brought together a critical mass of actors from six key sectors – agriculture, energy, infrastructure, marine, raw materials and urban development – together with Earth Observation (EO) players to discuss EO benefits and future EO capabilities needed to address sectorial challenges. Discussions built upon findings from the first and second round of FIRE Focus Group events, as well as the first FIRE Forum which took place last June 2021. Dr. Gerasopoulos has been serving as the Urban Development Sector Leader delivered insight on the various challenges that cities face and how can EO contribute in addressing them.
As Dr. Gerasopoulos stated "It has been a pleasure leading the urban focus group of the FIRE project. The diversity of the groups - it has been great to work with people from the cities from the Earth observation communities and the data providers. It was a nice to exchange and to identify the major needs for cities and also how current Earth Observation assets match with those needs"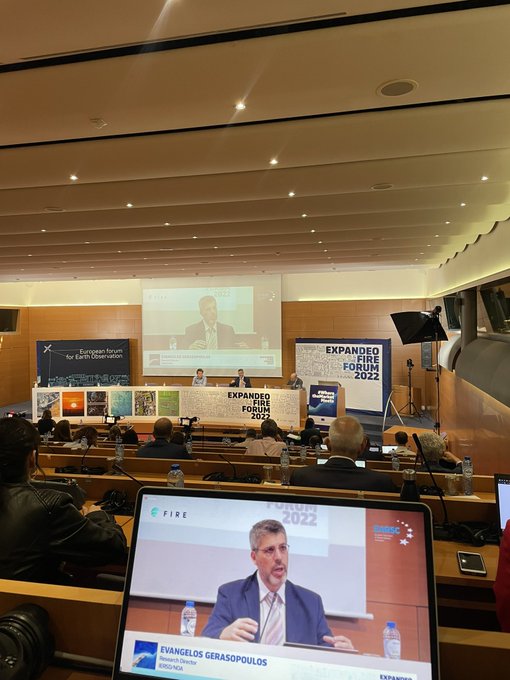 During Day 2, participants got the chance to learn about market opportunities in various sectors while growing their business through networking and other interactive sessions. Key representatives from user communities, Earth Observation service providers and institutional actors were brought together to discuss the "Now and Tomorrow" of Earth Observation in Europe. Dr. Gerasopoulos had the opportunity to share his experience from the EIFFEL project, being the leader of the Sustainable Urban Development Pilot which is implemented in Athens.
To get a snapshot of what happened during Day 1, have a look at the short video with highlights here.
The recording of the session "Getting there" – Deep dive in the latest R&D trends and priorities is available here but you can also access all the other recordings from both days here. Attached and here you can have a look at the graphical recording of the session.